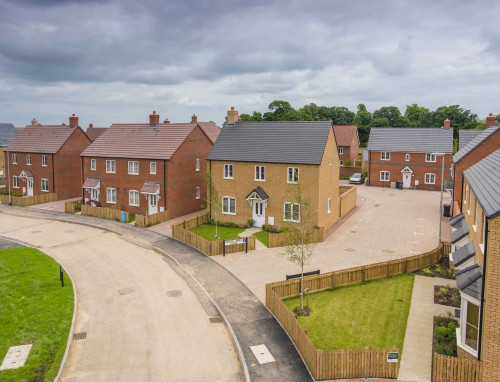 November home builder
"I think I can grow old in this house. I feel like the luckiest man in the world if I'm honest," said a resident in one of Grand Union Housing Group's homes which are helping people onto the housing ladder in an area where prices are nine times average earnings.

GUHG's 37 newest homes at the Home Farm development are a mix of one, two and three bed homes in the village of Cranfield.
Mark Jefferd, who moved into a three bed home with his partner and young family, is delighted with his new home. He said: "We are overwhelmed by this house. The size of the bedrooms, the living space and storage, it's perfect for a young family.

"For me, a home is somewhere where you can grow and build as a family. I think I can grow old in this house. I feel like the luckiest man in the world if I'm honest."
GUHG has over 10,500 homes including rental, shared ownership and supported housing. This year will see a record 270 homes completed, of which 129 are for shared ownership. The Group is also expanding its areas of operation, with schemes underway in Northampton and East Northants. Between 2015 and 2018, GUHG plans to have delivered almost 700 new homes.
These new homes are just some of the more than 40,000 homes that PlaceShapers have in the pipeline over the next two years.

Dave Lakin, GUHG's Head of New Business and Development, said: "It's as important as ever that we continue to build quality rural homes. The average house price in Cranfield is £239,252; over nine times the average salary and prices are rising due to high demand and a lack of new housing supply.
"Shared ownership is a great way for people to get on the property ladder when they otherwise couldn't afford to do so. The Government has made home ownership a real priority so these new properties are a great addition to the area and the shared ownership scheme will offer people a real chance to buy a home of their own."
With home ownership high on the Government's agenda, GUHG is looking to offer more shared ownership opportunities over the coming years.
The scheme is part of a bigger site which is being developed by Persimmon Homes. It is also largest single shared ownership site to date.