New Chair appointed to CKH Group Board
Cross Keys Homes is very pleased to announce the appointment of Shelagh Grant as the new Chair of its Group Board following the expiry of current chair Andy Orrey's full term of office.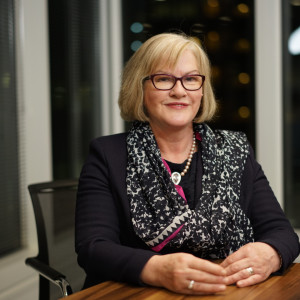 Chief Executive of The Housing Forum for the last 17 years, Shelagh has an extremely strong understanding of the housing sector, including the inherent community value of social housing as well as the current challenges faced by all UK housing associations. Shelagh is a fellow of the Chartered Institute of Housing and is committed to improving standards within housing. A former Director at Peterborough City Council, Shelagh has excellent knowledge of CKH's home town and the communities they support.
Shelagh commented on her appointment: "I have been aware of CKH and the impact their work has locally for many years, and it is clear a seat at the Board of Cross Keys Homes is an exceptional place from which to do good in housing and communities. I am bringing with me extensive experience and insight amassed throughout a varied career of more than 30 years in housing.  
"It is clear to me that service delivery must always the best it can be regardless of changing regulation and challenges facing the wider operating environment. As Chair of the CKH Board my priorities will be to continue to safeguard and empower residents, to explore fully community partnerships and development opportunities, and ensure robust governance and agile business practices remain in place to underpin CKH's ability to deliver great quality homes and services to the people who need them most for years to come."
Chief Executive of CKH, Claire Higgins, said: "I'm delighted to be welcoming Shelagh to lead our Board. With a proven track record of strategic delivery, Shelagh's perspective on housing matters will undoubtedly bring valuable guidance as we build on our existing strengths and navigate the introduction of the Social Housing Bill, new Consumer Standards, and respond to changing economic pressures to name but a few of the challenges ahead of us. With very extensive experience in the housing sector, Shelagh understands both the commercial demands of running a sustainable business and the social heart that motivates all we do. Shelagh has an outstanding reputation within the sector, and I look forward to working closely with her to make a real difference to the lives of our residents and their communities."
CKH are currently recruiting for a Board member. If you are interested in working with them to deliver their vision to create opportunities that change lives, find out more at crosskeyshomes.co.uk/board-recruitment.
Issued 0908/23