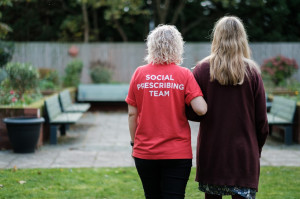 Rebecca Farrell, Social Prescribing Link Worker at whg writes..
"Sarah, who is 33, was referred to our team by Women's Aid. She had had a really tough upbringing which had impacted on her mental health and meant she was unable to work. She lived with her mum, who had learning difficulties, and when I went out to visit them it was apparent that they were struggling not just mentally but financially. Their income barely covered their bills, which didn't leave much to cover household necessities. They showed me the sofa which had over time become threadbare with springs sticking through that they had had to cover over with blankets to protect themselves.
"Their fridge freezer had broken some time ago, and with no money they were unable to buy a new one, meaning they were forced to shop day to day and store chilled food in the sink. This was having an effect on both their health and finances.
As a social prescriber my role is to support customers to improve their health and wellbeing. This is done by a 'what matters to you approach' supporting the customer's needs in ways that works for them and addressing social factors that can affect health such as poverty, isolation and loneliness. In Sarah's case, money worries were exacerbating her mental health issues.
"I used whg's Household Support Fund to purchase them a fridge freezer, making life a lot easier for them. This meant they could buy cheaper items and in bulk. I then set them up on a reduced water tariff for people on a low income, saving them £36 a month. She was also able to apply for fuel vouchers and PIP.
"As a result, Sarah and her mum are more than £530 a month better off. They are no longer struggling to keep their heads above water. The money they have saved has enabled them to buy the furniture they so desperately needed, enabling them to turn their house into a home and having a hugely positive impact on their mental health. I visited Sarah recently to check in on her and she said she is less worried about her finances. She now has money left at the end of the month and is finally starting to feel proud of her home."