Downing Street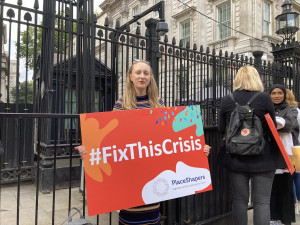 Housing residents and staff are among 404,000 voices calling on the Government to fix the Cost of Living Crisis.
Petitions containing the signatures were handed in to 10 Downing Street on Thursday 22 September, urging Liz Truss to:
⦁ Make Friday 23 September's 'fiscal event' a full emergency budget that thoroughly addresses the cost of living crisis.
⦁ Announce an immediate boost to Universal Credit and other benefits.
⦁ Freeze bills, get the energy cap under control and fix our broken energy system; alone, the petition calling for catastrophic energy bill hikes to be stopped and reversed has hit over 200,000 signatures.

Among those outside Downing Street was Raven Housing resident Board member Sophie Fuller. She said:  "Everybody deserves an income that is above the poverty line, that allows them dignity and a reasonable standard of living - regardless of their abilities, including those workers on low incomes, those that can't work at all or as much due to health, caring responsibilities or other factors. It's not a dignified way for people to live relying on food banks, having to choose between buying food or heating their homes or worrying about how to afford the commute to work.
"This cost of living crisis is occurring alongside the ongoing housing crisis which only makes matters worse. We are seeing more and more unable to adjust their budget any further to absorb the extra costs. Being in poverty is an extremely stressful experience, the effects of poverty compound over time and it can certainly leave emotional scars on the adults and children affected. This situation will worsen health inequalities."
Matthew Walker, chair of PlaceShapers, said: "Members exist to provide homes to people who would struggle to rent at market rates. Our residents are often on lower or variable incomes and often have poorer health. They are disproportionately amongst those who will be hardest hit this winter. Members are doing all they can to support residents through the crisis. It is vital the Government gives more support to those who need it most."
The petitions represent 70 organisations, co-ordinated by the Joseph Rowntree Foundation, who are campaigning for support for those worst affected by the cost of living crisis.
PlaceShapers was part of the call on Liz Truss when she first became Prime Minister
Notes
PlaceShapers residents and staff signed petitions handed in from the following
- 38 Degrees: 'We can't take any more energy bill hikes' - signed by 201
- 38 Degrees: 'We need an emergency budget that increases Universal Credit now': - signed by 156,221 
- RNIB - Call for urgent action on the cost of living crisis - signed by 2, 723 
- Centre Point: ''Vulnerable young people are going hungry to pay the bills. End food poverty now!' - signed by 3,189 
- Save The Children: 'Do more to ease the cost of living crisis - signed by 7,642
- Mencap: 'Do more to ease the cost of living crisis and stop people with a learning disability being priced out and forgotten': - signed by 2,254
- Independent Age: 'Tell Liz Truss to take action on cost of living' - signed by 3,862
- We Care Campaign: 'Emergency Cost of Living grant for people with a disability or serious medical condition' - Signed by 16,303
- Action for Children: 'We need urgent and decisive action on the cost of living crisis' - Signed by 8,066 
- Leonard Cheshire: 'Call on the government to ease the cost of living crisis' signed by 2,003
Please note: Some of the organisations involved have worked in partnership to campaign on this issue, so there may be a small number of duplicate signatures across the petitions that have been submitted as part of this hand in.