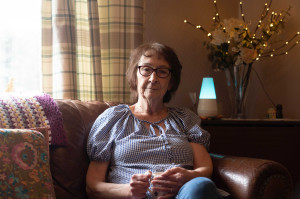 "I was certainly struggling. I managed to pay my bills but there was nothing left to have fun. Now I don't have to worry about direct debits going out and I can play bingo with my friends." That's the impact Longhurst's Money Advisor, Penny Jeffers has had on Pauline Howard (79), from Peterborough.
Pauline was finding things difficult financially until Penny became involved and she was helped to apply for Attendance Allowance and claim an increased rate of Pension Credit.
"I'm not on a high pension, but my rent is paid for me, which helps. But there was never anything left to spend on those little extras to cheer yourself up. I had someone come round as I'd asked about getting some help with my bathroom after I'd had a few knocks and bangs. That's when I was asked if I got Attendance Allowance. I didn't, because I thought I had to have somebody living with me and looking after me – I wasn't aware I could have it."
"Next thing, Penny called to say she'd send me the forms and also came round to help me fill them in. I wouldn't have known how to claim without her help."
Pauline's Attendance Allowance and higher rate of Pension Credit was also backdated, meaning her finances became easier to manage.
"It's made a lot of difference. I don't really like having to claim for different things, but I've got to an age now where I need a little help. I worked well past retirement as a carer so, I've paid my way and Penny was really great at helping me claim what I was entitled to. "It's really been a massive help. I'm delighted with Penny – the way she came to my house and helped me fill in the forms was brilliant. She explained things to me that I wouldn't have thought of, she was wonderful. Without a doubt I'd encourage people to get in touch with the Money Advice Team. I wouldn't have had a clue where to start without their help and I'd imagine there are lots of people just like me."