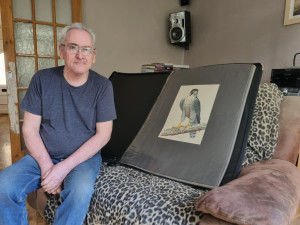 After losing his wife to heart failure and then his delivery driver job during the pandemic, Steven Walker (63), took a turn for the worse.

"On the first day of Covid, everything shut down and I was all alone About a week later, I got a letter saying I'd lost my job. At the same time, I found out I had two hernias, maybe three, and had arthritis in most of my joints. I was a bit of a mess and I was having to exist on basically nothing. Everything was happening at once."

Steven was referred to Longhurst Group's New Horizons service, which provides coaching for people out of work in Cambridgeshire and Peterborough to help them move closer to the job market.
Working with the team, Steven was able to budget his income and expenditures, and was referred to local support for completing a successful Personal Independence Payment assessment.
He now has a decent amount of money left each month and, during lockdown, a tablet with a data allowance was sourced for him, so he could access services and join groups to ease his loneliness and isolation.
Steven, who lives in Peterborough, was also signposted to various local support services, grants and NHS services. He added: "The first thing I wanted to sort out was my finances, with the view of more training and finding a job at the end of it.
"Unfortunately, my health issues had overtaken that at the time. The coaching helped me to sort out what I was entitled to with regards to benefits and gave me useful contact numbers for the people I needed to speak to. It's been quite successful. I've also had help towards the costs of my heating, which I need to keep my house warm at all times due to my arthritis. I received some food parcels that meant I could stretch what money I had even further, enabling me to pay a few other bills. Thanks to their help, I've managed to get most of my issues under control now.
"Without help from Longhurst, I don't think I'd still be here. With no money to buy any food or pay bills, I was in a bad place. I'd lost so much weight not eating and worrying about things. It's had a very positive effect. I still get down but I'm feeling better thanks to them."
Mairead Wright, Employment, Skills & Enterprise Manager at Longhurst Group, said: "As we've continued to work with Steven, we've adapted our support for him. We keep in touch regularly and when we pop round to visit, we'll have a good chat; he loves his flowers in the garden and doing artwork – he's an amazing artist! At Christmas, we dropped a bag of goodies for Steven and his dogs.
"We know Steven wants to stay in his family home and we're pleased to have been able to do everything we can to make this more affordable for him and a safer and more comfortable place to be."
Longhurst Group's New Horizons service is managed by Cambridge Housing Society and is one of the Building Better Opportunities projects. It's funded by the European Social Fund and National Lottery Community Fund as part of the 2014–2020 European Structural and Investment Funds Growth Programme in England.