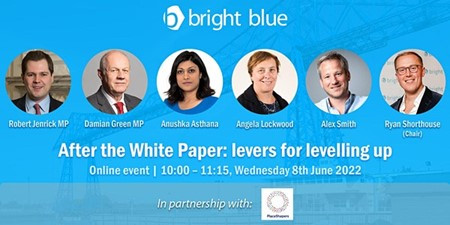 We are delighted to be hosting a public discussion, in partnership with Bright Blue, entitled: After the White Paper: levers for levelling up.  The event will be held virtually on Wednesday 8th June, 10am - 11.15am.
PlaceShapers have an important role in the regeneration of communities and should be seen as key partners in this levelling up agenda. We set out our argument for this earlier in the year in our report Stay Local, Go Far.
Following the publication of the Levelling Up White Paper, and the announcements in the Queen's Speech this week, the Government is determined to show it still intends to deliver for 'left behind' areas. But what are the levers in by which this will happen? How important is it that decision making is made at the local level and what role can housing associations play in the development and delivery of levelling up?
Speakers include:
The Rt Hon Robert Jenrick MP, former Secretary of State for Housing, Communities and Local Government
The Rt Hon Damian Green MP, former First Secretary of State
Anushka Asthana, Deputy Political Editor, ITV
Alex Smith, Chief Executive, The Cares Family
Angela Lockwood, Chief Executive, North Star Housing Group
Ryan Shorthouse, Chief Executive, Bright Blue (Chair)
You can register to join the discussion here.
Issued 12/05/22