A day trip to Stoke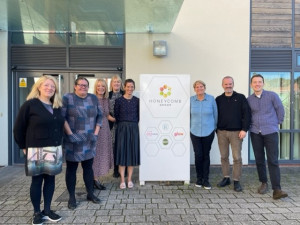 Matthew Walker, Chair of PlaceShapers, blogs about boldly pursuing local impact....
Never been to Stoke before. I suspect that's partly because it took me three hours by train to get there from Yorkshire. However that's been my loss, as PlaceShapers met at the Honeycomb Group offices to hear about what's going on in the city, and hear about some of the amazing work Di Thompson and her team are doing.
We met at the station and walked to the offices, guided by local resident (and PlaceShapers Business and Member Support Manager) Charlotte Kay, who pointed out the various regeneration sites, key landmarks and many real ale 'watering holes' along the way, which sadly time prevented us stopping to enjoy.
Once at Honeycomb, the City of Stoke-on-Trent Council lead member for housing Cllr Carl Edwards described the city vision for regeneration and joint work with housing associations.
The ambition is huge and grounded in the interests of the people of Stoke – the aim is to create thriving communities. It involves building new spaces to live within and around the city centre which will transform how the city works.
Plans are well under way on a number of sites already, with partnerships being key, particularly with Homes England and housing organisations working across the district. Honeycomb are clearly one of those partners, and it was encouraging but not surprising to hear Cllr Edwards praising the organisations development activity and core housing service (his mum lives in a Honeycomb property so he is well placed to judge).
A lot of the development activity centres around regeneration, which only serves to reinforce the importance of funding in this area. PlaceShapers will continue to gather examples like this of how such funding can impact the places members work and use those stories to promote the expansion of regeneration funding wherever possible.
We then heard from Honeycomb Director of Support and Wellbeing Mel Dunn and colleagues about the work Honeycomb do to address issues of homelessness and domestic abuse. Many landlords have services in these areas, but I have not seen an organisation engage at the scale in operation here relative to its size.
As well as the sorts of services one might traditionally see associated with these areas of work, Honeycomb's work involves educating young people on what a good relationship looks like, and working with perpetrators of domestic abuse as well as the victims. The people helped are literally measured in their thousands.
It is clear that these things matter to Honeycomb staff, and quite simply it's inspirational to hear the impact these services are having on Honeycomb customers lives. It struck me that the approach being taken is a result of clear leadership and a culture centred in the social purpose that housing associations exist to pursue. Different housing associations understandably choose to focus on different aspects of our wider remit to help create thriving communities based on the particular circumstances of their location. Honeycomb have set out their stall and are boldly pursuing their agenda.
So if you're ever passing Stoke, I'd suggest popping in to see things for yourself. I have no doubt you'll leave encouraged and inspired just like all of us. Thanks Di and thanks Honeycomb – keep on helping people, you're doing a great job and you're really good at it. Oh and next time, we need to build in time to visit one of the watering holes.