Regeneration requires ambition, vision founded on the needs and priorities of local communities, trust, resilience and a talent for bringing people together.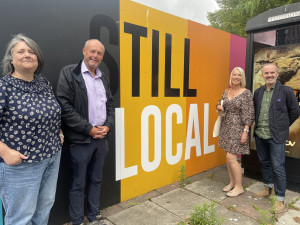 Carol Carter, PlaceShapers Board member and CEO of Origin, blogs.....
Wow! Was the most commonly heard exclamation as a crew from Placeshapers went on a whistle stop walking tour around Poplar as the guests of Steve Stride (CEO) and Andrea Baker (Executive Director of Housing and Corporate Services) of Poplar HARCA.
We gathered at 'The Hive' an Employment and Training Centre (right by the DLR station 'All Saints') where local people who have most difficulty accessing the job market get one-to-one support and advice.
Steve, in his inimitable down to earth style, talked us through the history, vision and plans for regeneration in the area and gave examples of some of the huge progress already made in an area which had felt cast aside as the towers of docklands sprang up 30 to 40 years ago. Then we were off to see for ourselves....
On the way to the Spotlight Youth centre, Steve showed us the new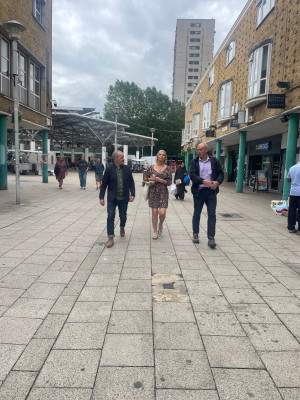 homes and physical regeneration completed and underway alongside crucial infrastructure projects like the Langdon Park DLR station, which Poplar HARCA campaigned and lobbied hard for, and which has opened up access to and from the area, bringing in new skills and investment.
Introduced to us by the inspirational Nahim Ahmed, the youth centre was modern, welcoming, well designed and equipped with an amazing range of facilities and services shaped to reflect the needs and priorities of local young people. Everything from an indoor event space with a sprung floor, spectator seating and an atrium to a full sized boxing ring, a music studio through to on site GP services and a café.
It was clear that this is a valued space where young people feel respected and involved and which is sustained through productive partnerships, not least with the school next door.
Our journey continued through areas designated for redevelopment and past the stunning (to some if not all of us!) Balfron Tower designed by Ernesto Goldfinger, which is set to provide market rent homes to help cross-subsidise social housing and increase the economic diversity of the area.
This was followed by a walk through the large area of densely developed high quality homes and beautifully landscaped and designed spaces which is Aberfeldy New Village - with Steve pointing out a brand new workspace centre, locations for a new health centre and local co-op and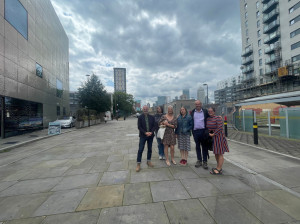 a hard-won pedestrian crossing providing access across a busy A13 to a DLR station 3 minutes away.
Next was the Poplar Works Fashion workspace, which provides scandi-style affordable high quality workshop space on a site formerly occupied by unused and semi derelict garages. With a 'wow factor' tour led by Alex Jeremy, it was fabulous to see the rows of sewing machines, fabrics and unique creations supported by the London College of Fashion.
By this stage, inevitably, we were running behind schedule and Steve hopped on his bike to another meeting whilst we continued to the community-based Poplar Union café (coffee roasted and bread baked on site and operating within a policy of sustainability) for a delicious lunch and reflective chat.
It was clear that successful regeneration requires an ambitious and compelling vision founded on the needs and priorities of local communities and ongoing investment in building trust, a dogged (if not fighting!) spirit, great resilience, a talent for bringing people together, commercial nous and preparedness to take risks as well as a recognition that it takes years and huge effort to achieve results. We all vowed to look for more ways to showcase what can be achieved, to help inspire and influence those whose practical support will help to replicate these successes in other places.