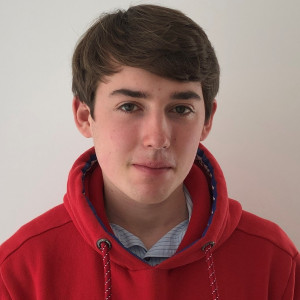 Pictured: Will Allen, Communications and Marketing Apprentice, Honeycomb Group
Diverse Voices : Young People
Will Allen, Communications and Marketing Apprentice at Honeycomb Group blogs about the latest Diverse Voices session centred around young people.
The latest webinar held for Diverse voices was centred around young people's journeys to getting an apprenticeship and their experiences in the role. This included the challenges they've experienced – including the past year during the pandemic, as well as what they enjoyed about their apprenticeship.
Having recently become an apprentice at Honeycomb Group, it was intriguing and fascinating to hear about their paths and experiences that led them to become apprentices. Some were similar to my own journey, while others experienced a completely different set of circumstances. On top of that, it was interesting to hear how the apprenticeship has helped them to develop their business skills that will set them up for life.
The session was chaired by Josh Cliff, the Partnerships and Programme Manager for Positive Footprints, which is part of the Regenda Group. He started the session by explaining why he creates apprenticeship roles that are focused on young people. He believes that young people have a great capacity to create change, citing examples like Marcus Rashford or Greta Thunberg. He thinks it's important that young people's voices should be amplified and that there should be many opportunities for any young person.
Josh was joined by Lesley Penton, the Partnerships Director at Regenda Group, George Weston, an Asset Apprentice also from Regenda Group, Ellie Moston, a Marketing Apprentice at Aspire Group and Josh Barfoot, a Business Support Apprentice for emh Group. 
Lesley Penton spoke next about the work that herself and George Weston do for the Regenda Group. The company had wanted to be more diverse and she was aware that young people were more than capable of doing the job, however they did not have the opportunities to get a position easily. An example of this is the fact that only 16% of young autistic people have full-time jobs. George joined the organisation with two others. There was a job coach to manage the three apprentices as well as support the employer. Lesley said how the training was extremely successful and enjoyable, and all three interns, George included, were offered apprenticeships with Regenda. Lesley also spoke about how other companies have come to her for more information on how the apprenticeship programme worked, due to the success of it.
Josh asked many questions to the three apprentices, for example how they got into their role or any advice they have for others thinking of becoming apprentices.
Ellie spoke, her apprenticeship at Aspire Housing Association - however her training is done through Achieve Training. She was in school completing her GCSEs before getting an apprenticeship, but this was cut short because of COVID-19.  She did not know what she wanted to do after leaving school, so, during the pandemic she searched and applied for colleges and apprenticeships. She was recommended to apply for an apprenticeship that her sister had successfully completed. Ellie got the apprenticeship with Aspire during her first week at college and did not want to miss the opportunity – and chose the apprenticeship over college. Overall, she has found the journey great and her team have been fantastic by being helpful and approachable throughout the apprenticeship. On top of that she has gained confidence and independence as well as skills for life.
Next, Josh Barfoot told us about his journey. After achieving his GCSEs he went to college for three years and then searched for a job. He applied for retail and office jobs, but struggled to get a permanent role, so he applied for his current apprenticeship role. Josh finds his job very satisfying as he helps other people do their jobs better, and although he is not directly interacting with customers, he still feels like his work indirectly helps them. Due to the pandemic, he has only been into the office once and has only met his manager in-person twice. Things that are usually very useful for apprentices, for example, shadowing and in-person interaction are extremely difficult to plan because of COVID-19 restrictions. However, he also finds remote working quite easy, he has more free time and has the ability to use his own technology for the role. Josh has gained knowledge about the industry and discovered how the impact that his business has
Lastly, George spoke about his story. He attended a school for people with neuro-diverse conditions as he has autism. At 18 he started a supported internship at Regenda and during this he made good friends with a group of students. After working his way through the course, he was offered the apprenticeship - something which pleased him greatly -especially when he found out it was paid! Recently he has achieved a promotion.  George described working from home to be a double-edged sword as he enjoys the fact that breaks are easier, and he has had the ability to develop a lot of new interests over lockdown. However, he misses the face-to-face interaction as well as the office, something which he likes the layout and style of a lot. George's story is very inspiring as it shows despite his autism, he can rise above it to do a job that he enjoys doing.
The webinar was very inspiring and a great way to hear how young people like myself have been able to find an apprenticeship, even during tough times, as well as hearing about the challenges they've experienced - whether they're general challenges or new challenges as a result of working remotely. Hearing the speakers' experiences has helped me with any uncertainties I have had, especially some of the speakers had faced similar journeys to me, for example, Ellie didn't know what she wanted to do after leaving school and her school year was cut short by COVID-19, or Josh who had held other jobs in retail. I am hoping my apprenticeship will allow me to improve myself both in the business sense, through learning new skills as I progress through my apprenticeship, as well as my own personal life as I will gain more confidence in my ideas and myself.  
Will Allen, Communications and Marketing Apprentice, Honeycomb Group