WHA's Big Door Knock – could this be the best way to get to know your customers?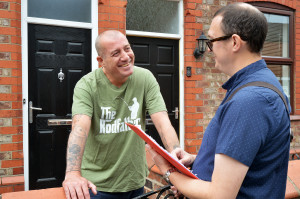 Ahead of Get To Know Your Customers Day on July 21, Warrington Housing Association carried out its most ambitious campaign to make sure their tenants' voices are truly being heard and actioned into its future delivery plan.

The WHA Big Door Knock saw colleagues step away from their usual roles to go door-to-door over four days, talking to their customers face-to-face to find out what they really thought about their WHA home, their community and ways they thought it could improve.

The consultation process aimed to collect the highest quality information, bolster community relations and remind WHA customers that we are here, and we want to hear from them about the services WHA provide.

Bernie Hubble, WHA customer voice officer, said: "We endeavoured to visit over 400 homes - a third of our stock - in four days to give us a good representation of how we are performing as a landlord.

"We asked key questions to see how happy and safe customers are in their home, such as how they feel we perform on repairs, the quality of the home they live in and what home means to them.

"This data will be used to shape our future plans, service, and feed into our annual report."

Lorri Holding, WHA Head of Customer Services, said: "The Big Door Knock seemed really ambitious when we planned it with our tenant scrutiny panel members on a wet and cold November morning in 2021. Having now completed the event, the difference the customer feedback gathered over the week will make to what and how we serve our customers going forward will be amazing.

We really could not have anticipated the feedback, the engagement, or the welcome we got from customers and people living in those communities, it really reminds you why so many of us do this job. We really have the most wonderful customers, it's hard to put into words just how well this event has gone down, with customers in the main but with our colleagues and board members too. It was a phenomenal effort of everyone's part.

"Our customers have been very clear that they expect us to do this as an annual event and on top of other events already planned in the calendar. Going forward we need to make sure it's one of the key methods we use to reach out. Our customers have told us that they want us to be in their community, where they live, listening to what they need."

Passing community members were also invited to have a brew and a chat at the Tea Trike, which was parked up at strategic locations to help the colleagues draw a crowd and some roadside interest.

To aid further engagement, WHA collaborated with local Warrington artist Sarah Harris to interview everyone who helped to produce a piece of interactive artwork with customers over the four days.

Bernie said: "We asked our tenants the important question: 'What does home mean to you?' Each answer was recorded on a piece of paper, which was then turned into an origami house."

More than 500 origami homes were created, and the final artwork will be assembled at the Gateway, the community hub which is home to WHA.

Customers and local agencies will be invited to the grand unveiling of the installation, and it will give a further opportunity to consult with customers about the services we deliver and ideas for 2023/24.

Lorri said: "Every colleague, board member and engaged customer got involved, whether they were helping set up our chat 'n' tea trike or armed with clipboards, questionnaires and WHA giveaways – we exceeded our target and reached out to over 600 WHA customers and community members."

As well as thanking the tenants for sharing theirviews and time, Lorri also praised the WHA colleagues for going the extra mile to make the project such as success.

"Our colleagues stopped their day-to-day work to make sure WHA customers could chat to them about their homes and communities. Even COVID-struck team members worked through, doing what they could to help by supporting remotely; even though we wanted people to rest, so many knew how important it was not to let our customers down last minute, that's why WHA makes the difference."

The results of the Big Door Knock will be shared with the WHA customers in due course.
Issued 21/07/22