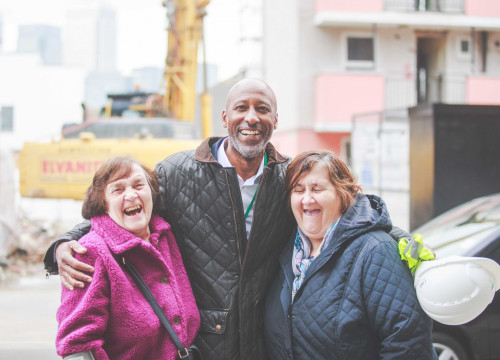 December Star Builder
PlaceShaper member Poplar HARCA is building 1305 homes between now and 2021 - with a further 716 subject to planning permission.
These new homes across all tenures – which form part of wider regeneration – are part of 36,000 homes that PlaceShapers have in the pipeline.
Poplar Harca is a lead partner in the South Poplar Housing Zone, and is investing in infrastructure for the long term health of the area. Here's some of the innovative schemes Poplar Harca is working on.
St Paul's Way School expansion
In partnership with The London Borough of Tower Hamlets and the St Pauls Way Trust School, we are delivering 109 new homes, a school, play area and a mosque.
This unique development will provide much needed school places, by providing a new two form entry primary school and nursery, as well as affordable family housing units, to create a mixed and sustainable community. 83 of the homes are for private sale, the remainder being large affordable and shared ownership properties.
81 year old Eileen Altmas (pictured at bottom) recently attended the demolition of Linton House as part of the St Paul's Way development. She said: "I had many happy years there, but I'm happy to see it go due to the damp and the cost to heat it. I've now got a new flat nearby thanks to a lease swap organised by Poplar HARCA."

Work started in June 2015 and will be carried out over several phases up to completion in early spring 2019. Phase 1 was the construction of the temporary school hall and surrounding grounds, which is now complete. Phase 2, which is currently on site, is the construction of the East wing of the new school and the state of the art Mosque.
The development will also provide efficient heat energy to all homes from an independent energy centre, which will house the central heating and combined heat and power plant for the whole scheme.
Hidden Homes
We're committed to making the most of our assets in Poplar. The Hidden Homes scheme was a conversion of a number of redundant spaces from our stock into residential accommodation, which was completed in July 2016.The sites included the conversion of a roof space into two flats (a 1 bedroom and a 2 bedroom unit) and the conversion of a boiler house and oil store into two new 2 bed flats. Two further units have been created on other estates by converting redundant stores.In total six new homes were created which are being let at Market Rent. Revenue generated from the scheme has been reinvested and used to provide two new bases for our estate services.
Poplar HARCA Development worked with Baily Garner construction consultants and BRAC contractors to complete the work.
We're proud of our home building record in Poplar and proud to be a Placeshaper.