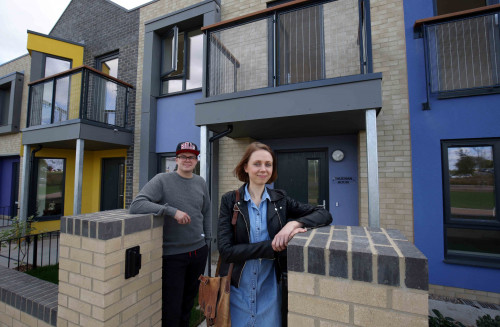 April Star Builder
Over the next five years North Star will build 250 new homes, part of the 36,000 nationally being built by PlaceShapers.
They have recently completed 110, which includes brand new homes in Middlehaven, Middlesbrough built as part of an Urban Pioneers scheme.
The Urban Pioneers scheme, in Middlesbrough, provides a terrace of nine high quality two bedroom homes. The new homes are live/work units, which mean not only do they offer affordable accommodation but they create the ideal environment for new enterprises to flourish.
The properties have a flexible work space on the first floor to support our residents in running their own business, or working from home as part of their current work arrangements. The properties are let at 80% of market rent making them affordable to working people who have an aspiration to develop their business.
The properties are the first homes to be developed in this part of the regeneration area and we hope that this will kick start the development of the other plots in the wider Middlehaven Area.
Mark Parham, 41, is a curator and has recently moved into one of the new live/work homes in Middlehaven: "For me the Middlehaven development has the potential to really change perceptions people have of the town - most people that visit me are genuinely surprised by the area, yes it's in its infancy however the general consensus is positive - it's a blank canvas, that's exciting and the whole point of regeneration.
"Under the shadow of Middlesbrough College and the Football Stadium, living here is great – you're suspended somewhere between the old and the new and for me without doubt it's the best place to live in the town. It's vital that it continues to support small businesses, local people, and maintains a fresh and brave approach - for now maybe it's Boro's best kept secret."
Angela Lockwood, Chief Executive for North Star, said: "These innovative live/work homes are the first to be developed as part of the Urban Pioneers scheme – we really are pioneers here and we hope that it's the start of an exciting new community.
"We're excited to be able to deliver something new to the area; the homes provide a place for tenants to run and grow a business from home, or provide a place for residents to work comfortably from home. We're dedicated to being so much more than a landlord, and the flexibility, versatility and support these new homes bring demonstrates this.
"As well as providing a great new live/work experience for tenants, the new Middlehaven development has great benefits for the wider local community. Not only does it bring a vacant site back to life, but it helps attract people to the area to utilise the local facilities and services."
Of the 250 homes that North Star will build over the next five years, 90% will be for affordable rent and rent to buy.